Tired of dried out venison burgers? If you have a Ninja Foodi you know everything tastes better when you cook it in the Foodi. That goes for venison too.
Using the Ninja Foodi with venison meat has helped me ease back into the taste of it.
If you are wanting to make burgers in your air fryer give it a try. If you want to make venison bacon burgers this is a go to recipe.
This recipe will work with ground beef or venison. I used venison for this recipe. You could also mix ground venison with other meats too.
Feel free to skip the bacon if you don't have any on hand. These taste still taste moist and delicious without it.
If you're making it for a bacon lover spouse- well you know the answer 🙂
WANT TO SPICE UP YOUR FOODI LOOK?
I'm in love with these easy to use Ninja Foodi Wraps. Different colors and patterns to choose from too.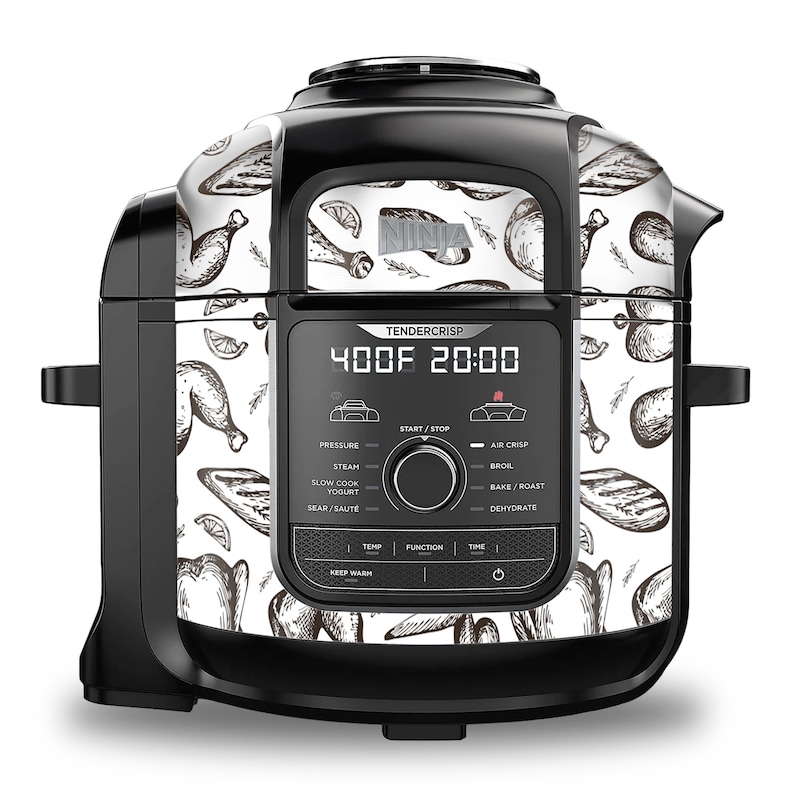 We butcher and pack up our own meat. I highly recommend the Foodsaver if you do any of your own processing. We have almost 2 pounds worth of ground venison in each pack.
This recipe made quite a few burgers. I wasn't expecting it to make so much. The added breadcrumbs helped.
The beauty with this, is you can freeze these for another meal another day. We got about 10 small burgers. The perfect size for the cheap hamburger buns.
More Ninja Recipes to Try:
RECIPE
2 lbs. ground meat- I used venison
1 packet of Onion Soup Mix
1/2 cup of mayonnaise
A few drops of Orange juice- if using venison meat
3 pieces of day old bread ripped up into small pieces. You can substitute this for 1/2 cup dry bread crumbs.
Bacon for topping if you choose. I used microwavable bacon from BJs.
Mix all of the ingredients in a bowl. Remember when making hamburgers you don't want to touch the meat too much.
I like to grab a small round of meat out and use wax paper to smash it down.
Turn your Ninja Foodi to Air Fryer setting. I set to 400 degrees for 20 minutes. Let it heat up for a few minutes.
We had french fries with our burgers. I filled the bottom up with fries and used the rack to put the burgers on top. I let the fries cook for five minutes before adding the burgers on top.
More Ninja Stuff to Try:
Fill up your fryer with burgers. I cooked ours for about 15 minutes. This will vary depending on how well done or not you like your meat.
Remember if cooking with venison it cooks quicker, but the mayonnaise makes it take a little longer than normal. I love keeping microwaveable bacon on hand. I found the BJs brand to have the best taste and texture. This way I could add to the last minute of cooking and it would be nice and crisp.
If you buy regular bacon you could dice it up and add it in with the meat. Or put it on the meat right away when you air fry it.
Add whatever toppings you enjoy.
Our kids love venison burgers with this mix. When I make them without it, they think it's too dry.


Let me know if you have tried venison burgers in the air fryer? What are your favorite hamburger toppings?