Accessories for you Ninja Foodi enhance the entire experience of cooking with it. I've had my Ninja Foodi for a little over a year now and am completely in love. The Kitchen aid Stand Up mixer was my first love and getting attachments for it was like pure magic.
It is amazing how powerful accessories can be. If you are looking for my honest review on the Ninja Foodi go here.
Let's get into some of the must have Ninja Foodi Accessories you need this year.
What the Heck is a Ninja Foodi?
There are two sizes for the Ninja Foodi a 6.5 qt and 8 qt. We are a family of four and have the 6.5 qt.
The Ninja Foodi is a 6.5 qt. pressure cooker and a 4 qt. air fryer. The combination of using these two together is Ninja's Tendercrisp foods.
Before purchasing a Ninja Foodi read carefully all the functions that come with it. Cheaper ones will not have the dehydrate function.
The Ninja Foodi I own can also dehydrate, sear/saute ( yep I saute my onions right in it to a golden color) broil, slow cook, steam, bake, roast and of course the pressure cooking and air fryer.
To read the complete review on the Ninja Foodi go here.
*Please make sure the size you are ordering will fit in your Ninja Foodi.
Silicone Finger Mits
If you've air fried anything in your Ninja you know big large oven mitts can be a little tricky to pull the rack out. With these silicone mits you can easily grab and hold the basket.
Steaming Basket
For life out in the country with all those farm fresh eggs in the summertime, it's super easy to steam your eggs in this steaming basket. It also works great for steaming veggies.
Ninja Foodi Wraps
This is a perfect gift idea for the one who loves the Ninja foodi. With a bunch of different styles to choose from a Ninja Foodi wrap is fun.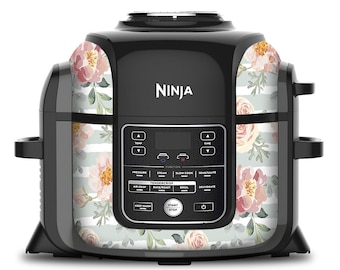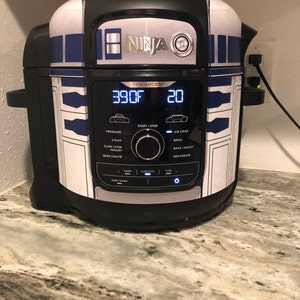 Have You Made These?
Dehydrator Racks
When I made this venison jerky in the Ninja I loved how much faster it was than the traditional dehydrator but I wish I had these racks at the time. Now if I am going to dehydrate anything it will be with this set because yes I bought this for myself!
SpringForm Pan
Baking in the Ninja Foodi is kind of amazing. You think can you really bake stuff in it? The answer is yes you can. This is next up on sharing my Ninja Recipes with you is baking. If you plan to do any baking this springform pan is a must for cheesecakes.
Silicone Tongs
Silicone Tongs are a must to get all sorts of different food out of your Foodi. You want to avoid using metal tongs because you don't want to scratch the basket or pot. This was the first accessories I knew I would be using with my Ninja Foodi.
Silicone Egg Bites Molds
This is a nice set because you get the steamer rack with two egg mold trays. The handles are heat resistant which is nice. You can make brownies, Popsicle, baby food and yogurt with these molds.
Steam Release Diverter
If you saw my video oh my big mistake with pasta, and the steam shooting out all over with starchy water, then this is the problem solver. It would make a great gift when you feel like you are too practical to buy it.
Depending on where you have your Ninja Foodi this could be a big help. If you had it under your cabinets this is a good accessory. We have ours out on an open shelf now. I shared a video of me using it on Facebook here.
Bundles
If you are looking at these for gift ideas or you don't want to buy all the accessories for the Ninja Foodi separate consider a bundle. There are a few different bundles you can choose from on Amazon.
There is a 20 piece set here. Which is a great starter kit. Or a 60 piece set here.
What accessories have you tried in your Ninja Foodi?
Before you go did you see these?