Want to have a charbroiled hot dog without an actual grill? Maybe it's too cold outside or hot to fire up the grill. Putting hot dogs in the Ninja Foodi is quick, easy, and delicious.
My husband, who loves putting any meat on the grill, was impressed with how these tasted.
I mean, look at them; it's like you could fool anyone else into thinking they were on an actual grill. I've paired this easy dinner with a cheap and easy side dish and recipe below- Cucumber salad.
The Ninja Foodi has come down in price. So if you haven't snatched one up, grab it here.
We used Ballpark hot dogs because it's during the Covid-19 outbreak, one of the only choices. ( If you want to see my meal plans during this time when shopping is even more limited, tap here.)
I like Ballpark, but their Angus beef ones are the best. My husband's favorite is Sahlen's, but the kids aren't fans of the leathery skin.
For a super fun way to spice up your Ninja, check out all these adorable Ninja Foodi wraps for it! Yes,' I'm in love.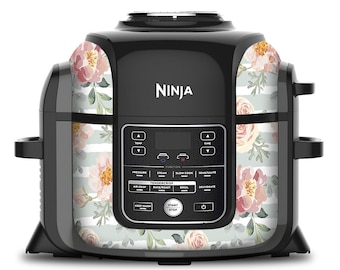 All you need is your Ninja Foodi and a rack. If you love accessories, check out this list of must-haves for your Ninja Foodi.
For this, I found Broil to work great to give it a char flavor. I set the time for 12 minutes. Then, I let it heat up for a minute. Cook until your preferred look and taste.
After 11 minutes, this is what ours looked like. But, of course, if you use hot dogs with thicker skin, you'll probably want to cook longer.
You could also cook in your buns on the broil setting too. For this, I skipped it because our kids like everything mush!
But if it's just the adults the last five minutes of cooking, I would put my bun in the Ninja Foodi with the hot dog and cook for a few more minutes.
Of course, top it with your favorite goodies. We have plenty of onions right now during our stay-at-home order.
The beauty of the Ninja Foodi is if you like your hot dog to be steamed and don't want to sit and boil water in a pan, you can use the steam setting. You only need to cook for 5 minutes or so.
And to get real fancy, we made this with boxed macaroni and cheese. We are living at different times, my friend.
Whether you're a fan of hot dogs or not, this recipe is sure to please. It's fast, easy, and tastes like a fresh char-grilled dog – without all the hassle.
If you don't have a Ninja Foodi yet, what are you waiting for? Making hot dogs has never been so simple (or delicious) with this appliance. So give it a try, and let us know how it goes!
If you want a cheap and easy side dish to pair with this, make my Cucumber Salad! I only have the recipe on Tiktok, so watch the video below.
Know someone who would love to decorate their Ninja Foodi? Order one here.
More Meal Planning Tips: