When you live in upstate New York, you are longing for those hot summer days and long evenings.
Fireflies, swimming, hiking, all of it sounds so good. Yet this year everyone's summer has been turned upside down.
We've found how to be creative with what we have, and how to carefully shop and make vacations at home.
This year with the holidays being nothing like before, it's important to plan ahead, in the best way we can.
Today I'm going to share with you how to find cheap Christmas decor and some cute and budget friendly DIY Christmas decorations.
We do know that this year, holiday decorations will be flying off the shelf. Bringing that comfort feeling into your home is something to look forward to. Something that can't be taken away.
In order to prepare for it and keep the traditions going, you can do one thing that won't break the budget and it's happening right now.
Garage sales. Thrift stores.
Now is your time to shop for all things Christmas related. When it's hot, and people are looking to declutter, you'll always find several houses with the their old holiday decorations out for sale.
This is the time to start looking for garland, lights, cookie jars, cookie cutters.
This is the time to look on craigslist, marketplace for free items.
And if you have been thinking about tossing out the old and getting something new, you may want to wait until next year.
I have feeling holiday items will be here and gone like all the patio furniture, pools, etc.
It's crucial that you always plan ahead for the holidays– and if you need to save even more this season- check out my frugal but super-effective tips for holidays here.
This is the time to also hit up the thrift stores for these items. It's never to early to start preparing for Christmas.
One of the things as a frugal debt-free person- I'm always thinking of Christmas. We know when it comes every year and we have an entire year to prepare for it. Now is the time to get going on things you need/want for the holiday season.
If you plan on shopping the thrift stores here are five quick tips to help you save even more money.
Follow their social media pages and websites for coupons or extra savings days or new items they receive.
Shop their online stores. Goodwill has theirs here. You can find their stores on their websites or social media accounts. ReStore ( Habitat for Humanity) many of them post their new items on their Facebook pages. Many will let you buy with just a click!
When you enter the store check what color is on sale that day. If they do not do a color code ask what the special of the day is. Then to really maximize your savings only look at items in that category.
Use Pinterest Baby! Let your mind be open to some of the pieces that could become something fantastic in your home. Can a can of spray paint spruce it up?
Don't forget you can reuse your own holiday items, but this year put the manager set in a different room. Maybe you want to move the garland?
By switching up where you normally put decor gives the item a fresh feeling.
For a little DIY Christmas decor inspiration check out some of these items.
Rachel shares a great tutorial to make these DIY Faux Fur Christmas Trees. You can also visit her blog and get a free printable of the materials.
While your on her blog check out these Mason Jar Snow Globes. Another item I always stock up on during garage sale season.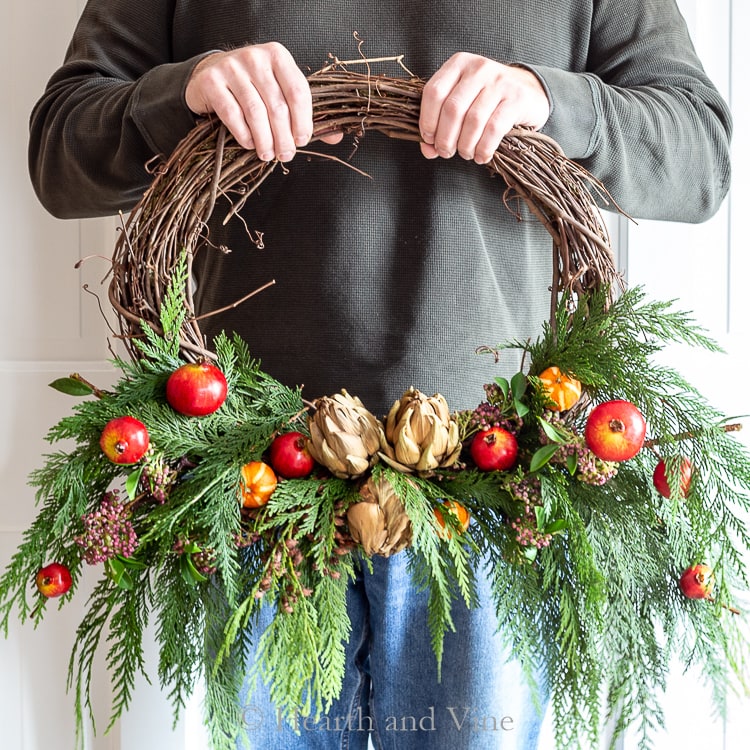 When you can't find material hit up your backyard. Here is a great DIY Winter Wreath .
I think this summer has left some of us testing out more wine- or maybe just me?! Here's a great way to use those leftover corks.
And you can always print out wall decor and grab cheap frames from the Dollar Store.
I hope this helps you think a little further out while you are shopping this summer.
Need gift ideas? Check out our guides below.